Bibury Newsletter
Latest Bibury News and Blog Items
Bibury Events - What's on in Bibury and the surrounding area
Bibury Boxing Day Duck Race
The annual Bibury Duck Race is one of the Cotswolds' more unusual, but extremely popular traditions, attracting crowds from far and wide each year on Boxing Day.
The race usually starts at 11am and admission is free.
Advertisements
Popular Pages
Pages Updated
Bibury is a charming, typically Cotswold, village just a short drive from "The Capital of the Cotswolds", Cirencester.
Bibury was once described by William Morris (1834-96) as "the most beautiful village in England". In fact, Fox News says that Bibury is one of the world's most picturesque villages, and an article on the Huffington Post website (1st May 2014), titled "The Most Charming Towns In Europe You'll Want To Visit ASAP", mentioned Bibury.
And the cottages of Arlington Row are often referred to as the most photographed and beautiful cottages in the country.
Even more so when they are "photobombed" by a little yellow car!
To see more photos of Bibury, visit the Bibury Photos page.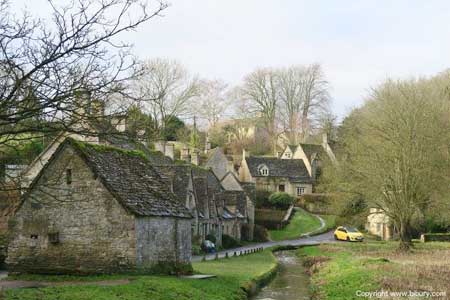 Welcome to the Bibury Website
Information for residents of Bibury and Bibury visitors
Attractions and things to see in Bibury include Arlington Row, a row of weavers cottages built of local stone next to the River Coln, the Bibury Trout Farm and the Saxon Church, the Church of St Mary.
The north Chancel wall of the Church is home to a stained glass window which was designed in 1927 by Karl Parsons and was featured in the 1992 Christmas stamp set issued by the Royal Mail.
The River Coln flows through Bibury sandwiched between the main village street and an expanse of boggy watermeadow known as Rack Isle. With Arlington Row as a backdrop, it makes one of the most picturesque scenes you will find in the Cotswolds.
Using the links above, you can navigate around this web site to find information such as Bibury accommodation, places to eat in and around Bibury and car parks in Bibury.
If you are looking for somewhere to stay in the area, try Cirencester Hotels and the "Where To Stay" pages of the Cirencester website and another Cirencester website www.cirencester.com
You can also find Bibury information on the Cotswolds Web Site.
Bibury, "the most beautiful village in England" - William Morris
Accommodation In Bibury
If you are looking for a place to stay in Bibury then you have choice of some high quality accommodation.
For details of Bibury hotels, bed & breakfast and self catering holiday cottages please visit the Where To Stay page
Where To Eat
While you are visiting Bibury you may be looking for somewhere to eat. Whether you want a a cup of tea and a piece or cake, a pub lunch or a formal evening meal, Bibury has it all.
For details of where to eat in Bibury please visit the Where To Eat page